In Cambodia, decades of turmoil have left indelible marks that serve as constant reminders of the past. For people like Chan Ngin, those reminders are close and inescapable. Like many in Cambodia, Ngin lost his legs in a landmine accident. His past is with him every day.
Spending his life in a wheelchair and being largely dependent on his wife Phork to care for him and earn money for the family, has not been easy for Ngin, an active and solidly built man. The determined Ngin did what he could, hiring himself out to clear land for other farmers – working for months at a time to ensure their land was suitable for planting rice or other crops. But Ngin had another emerging problem.
A mobile eye screening camp found cataracts in both Ngin and Phork's eyes. Ngin's were early at the time but Phork's were more advanced, so Ngin chose to wait so his wife could receive surgery first. Over the next 12 months Ngin's vision drastically deteriorated and he experienced loneliness and depression. He struggled with the inability to work and support his family. "I used to travel far away from home in my wheelchair but now I am so depressed about what I cannot do," Ngin said.
When Ngin's surgery approached, he was asked who he looked forward to seeing the most. "My wife and grandchildren – but I want to see my wife first!" he answered quickly. When a nurse removed his eye patch, Ngin was overjoyed when Phork was the first person he saw.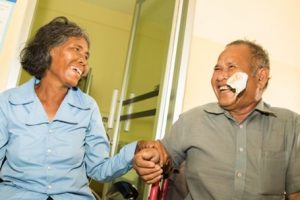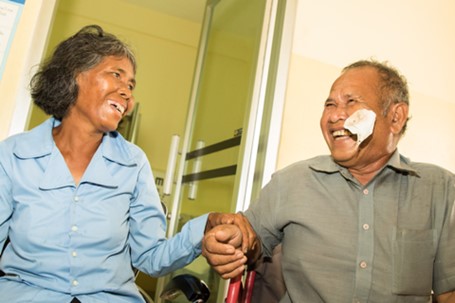 Following the cataract surgery, Ngin's quality of life improved dramatically. He is now working at a farm, supporting his family financially and saving money to build a new house. "Now that I have my sight back, I can help my family. I can get rice from the field and be the head of my family," Ngin said.
Story credit: The Fred Hollows Foundation; Photo credit: Mary Tran, The Fred Hollows Foundation.